The H&M Maxi Dress.







I WANT I WANT I WANT I WANT!!!!

It's 29.99. I'm serious. And sold out EVERYWHERE.

And I'm choosing to ignore the fact that I'm vertically challenged and therefore hemming the dress would probably cost more than the dress itself.

But it's summer! And I want a maxi dress. Not just any maxi dress. This one!

And I just saw an advertisement for gladiators that ZIP UP THE BACK (ingenious). I'm going to get a pair. Brown or white? I haven't decided yet. Cuz I already have red and black. I keep going back and forth. I'm thinking maybe brown for the zip ups and getting white from gap (those things are pretty darn cute, and the white ones I'll only probably wear a few times therefore I'll be more likely to sit my ass down and put them on).

From Baker's (they have one in the galleria by me - ohhh St. Louis, such a ghetto). $49.95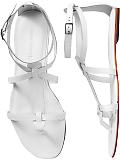 Eh, maybe scratch the gap idea - they're $78! I thought gap sold shoes for like $20! Since when did they get so expensive? Maybe that's why they're almost in the hole...




Espadrilles would be SO much better for a white sandal anyway! Here's my yummy price of $19.50 and hard-to-put-on white flats from Old Navy. Loves it!

BTW, hardcore impressed with Old Navy. They are totally underrated this season.




I am also getting this plaid tote - $10. I have yet to add to my plaid collection, and for $10?! It's perfect. And I love the blue - it's a nice change of pace from red.





Yes! A tie neck shirt where the bow is big enough not to get lost to the side of my chest (ladies, a big chest and the collar bow are a very very difficult thing to pull off - same reason why I can never wear jackets unbuttoned because the jacket always flops open and then there's no structure). $24.50.




Umm perfect cardigan throw over? Yes, please! It's light weight, half-sleeved, and buttons in the front. What more could I ask for? I'll probably get it in all 5 colors at $16.50 each. That orange tank is hideous though. Please, try to ignore it and assess the cardigan for its solo quality. I would pair the cardigan with a print - a summer dress perhaps, or maybe a white tank and wide-leg dress pants (black or gray) for work.




Not gonna lie, this georgette dress is totes growing on me. It's $39.50. I'm loving the purple - it's not too overwhelming. The length is what's worrying me most, but with the right shoes and for the right event, this dress can be really cute.

I think I've fallen in love with Old Navy.

In the meantime, not everything at ON is worth it - please stay at least 100 feet away from all things terry cloth, mini skirt-y and short-short-y. It's never worth it to wear these things or spend your money on these things. Even at a bargain price. NEVER. If you have the urge, think of all of the other things you can spend those $15 on... Forever 21 accessories for theme parties anyone?... or in St. Louis, a pretty decent manicure (tip included, hell yea)?... or a new album on itunes?...

School is finally over and I'm packing up my room right now. That means Spring Cleaning. Goodbye old favorites, hello shopping!